New to /mu/?
Don't know what to listen to?
Don't worry, this chart will help you become an entry-level /mu/tant
Neutral Milk Hotel - In The Aeroplane Over the Sea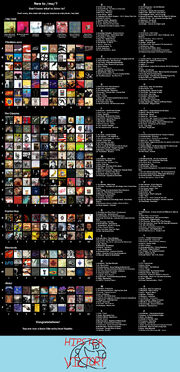 My Bloody Valentine - Loveless
Radiohead - OK Computer
Radiohead - Kid A
King Crimson - In The Court of the Crimson King
Animal Collective - Merriweather Post Pavilion
Kanye West - My Beautiful Dark Twisted Fantasy
Ad blocker interference detected!
Wikia is a free-to-use site that makes money from advertising. We have a modified experience for viewers using ad blockers

Wikia is not accessible if you've made further modifications. Remove the custom ad blocker rule(s) and the page will load as expected.